Second humanitarian flight: food for Mozambique
A Boeing 787 from Solidaire's organization, piloted by its president Enrique Piñeyro, took off last Saturday from Barcelona to Nacala (Mozambique). It was packed with over 33 tons of food to assist in the severe humanitarian crisis that the north of the African country is facing.
The idea of sending this humanitarian flight, which landed on July 11th, was a supportive initiative organised by Open Arms and Solidaire, and also with the contribution of Transjunior, a logistics corporation.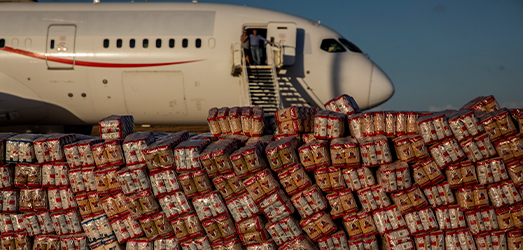 The 33-ton cargo consists of legumes, canned fish, rice and sunflower oil. They have been delivered to Caritas Mozambique, which will distribute it to the affected population.
The objective of this assistance is to support the communities of Cabo Delgado, a coastal region from the north of Mozambique in the border of Tanzania. Since 2017, these communities suffer continuous and indiscriminate attacks by armed groups affiliated with the Islamic State that devastate villages, torture, rape and murder.
In recent years, jihad violence has caused more than 2.800 deaths and at least 730.000 Mozambicans from that region have abandoned their land.
Many displaced people are in the neighbouring regions, and three-quarters of them are children and women, who, usually, have no refuge or are undocumented and are struggling to survive.
This initiative is part of the Open Arms mission, which, for years, have been trying to help people to solve problems in countries of origin. In Mozambique, just as in other African countries, desperation leads thousands of displaced people to set out on dangerous and risky journeys.
THE CAUSES OF A FORGOTTEN CONFLICT
According to UNHCR, the UN office for refugees, the situation of Cabo Delgado is critical and the chronic poverty, climate crisis and recurrent illness, including covid-19, make it worse.
Since March, the rapid escalation of the conflict in Cabo Delgado has caused a considerable increase in the number of needy people. In fact, it has almost doubled as the violence has intensified.
Furthermore, Mozambique is still recovering from devastating cyclones which took place in 2019. Also, it is dealing with a complicated health situation deteriorated by the COVID-19 pandemic, which has left a large part of the population without livelihood, and the high risk of spreading other infectious diseases such as cholera.
Cabo Delgado is a well-supplied area that possesses precious gems and natural gas fields, but the exploitations of their natural recourses are mainly in the hands of multinationals.
"The truth is that there are immense necessities. The international community needs more resources but also does the government of Mozambique, and it is fundamental to act before it is too late", has stated Gillian Triggs, Deputy High Commissioner for protection of UNHCR.