'The Napalm Girl' aboard Open Arms 10th humanitarian flight
50 years ago, Nick Ut's photo of a Vietnamese girl running naked with burned skin went around the world and opened humanity's eyes to the brutality of the Vietnam War.
Today that iconic image of "the Napalm girl" is printed on the Boeing 787-8 Dreamliner of the NGO Solidaire, chaired by Enrique Piñeyro, and in collaboration with Open Arms, carried out a humanitarian flight from Warsaw to Regina, Canada, with 236 Ukrainian refugees on board, on July 4th.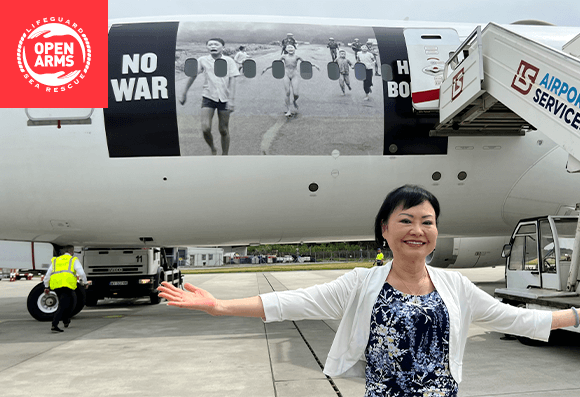 This is the tenth humanitarian flight fulfilled by Open Arms to respond to the emergency in Ukraine. It has been possible through the combined efforts led by Solidaire, in collaboration with DKV Integralia Foundation and the support of Saskatchewan-Ukraine Response Team on behalf of the Canadian government, province of Saskatchewan.
From today, more people and more than 90 families including the 26 minors and 8 babies on board, will be able to start a new life far from the atrocities of a conflict that began more than 4 months ago.
In 1972 the cry of pain of that girl, named Kim Phuc Phan Thi, who was only 9 years old at the time, reached the ears of millions of people. People who demanded justice and help for all the innocent victims and put an end to the horror of the conflict.
"That photo went through me in adolescence and I remember that it transformed me. I couldn't understand how they could do that. It was one of the most dramatic moments of my life. Now, being able to take her on the plane, I feel like the circle is closing. We are repairing something, we are doing something," says Enrique Piñeyro, who invited Kim to travel to Canada on this humanitarian flight. "Her flag is an anti-war flag. What we are saying is that wars are always the same, whether initiated by John F. Kennedy or by Vladimir Putin. It is a horror against humanity, all its ever been is bombing schools, civilians, hospitals, killing innocent people. They are always decisions of a politician who picks up the phone, gives the order to start hostilities and then ignores the real consequences", concludes Piñeyro.
Kim Phuc Phan Thi has been a woman committed to peace and against all armed conflicts in the world for years. We are proud that she has accompanied us on our tenth humanitarian corridor, from Warsaw to Regina, Canada. "It moves me a lot. I am so grateful to still be alive," says Kim on board the flight. "Fifty years have passed, it's hard, but Enrique's idea of ​​taking me back in time and turning this into a message for peace is so beautiful. I'm very grateful to him, to Solidaire, to Open Arms. This is my dream, my purpose, the reason I'm still alive."
Since March, Open Arms has been able to safely place more than 2,000 Ukrainian refugees, mostly elderly people, mothers with children, and entire families who will be able to live in peace, in shelters.
"Kim's photograph served, in 1972, to denounce the use of napalm against the civilian population during the Vietnam War. The photograph of little Aylan Kurdi, drowned when trying to reach the Greek coast with his family, led to the creation of Open Arms: this small non-profit NGO that has managed to rescue more than 62,000 lives in the Aegean and the Mediterranean in 6 years", says Oscar Camps, founder and director of Open Arms.
"50 years after the painful photograph of Phan Thi Kim Phuc, we can ask ourselves: Can a photograph change the course of history? Today our organization, which was created from an image, flies from Warsaw to Canada, a place of refuge for the 236 people fleeing the war in Ukraine. We live in a world with 63 active armed conflicts, is it that the victims of all of them do not matter? How is it possible that images like the ones we see every day in the Mediterranean, in Ukraine, in Melilla, do not make us decide that enough is enough and ask to stop the systematic violence?" asks the founder of Open Arms.