The preliminary hearing against Salvini
January 9, 2021, the preliminary hearing against former Interior Minister Matteo Salvini, accused of kidnapping people and omission of official documents, was held in Palermo. The events go back to what happened on the Open Arms mission 65, when in August 2019, our tugboat stayed 21 days adrift after having rescued 163 people on three different rescue operations. Seven of these days were spent off the coast of Lampedusa.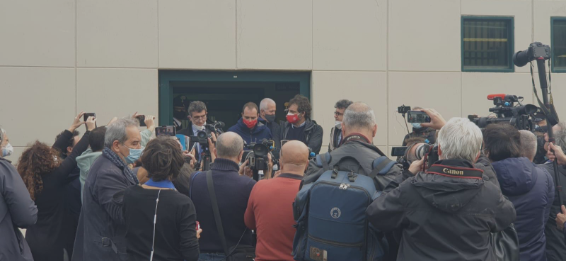 During these 21 days, the TAR of Lazio sentenced for the suspension of the ban on entry into territorial waters. Moreover, 28 minors travelling alone could be disembarked by order of the Court of Minors of Palermo; and 41 medical evacuations, requested and obtained on the grounds of physical and psychological fragility: "It refers to a situation of great physical and mental discomfort, of profound psychological affectation, and of very high emotional tension that may have provoked difficult-to-control reactions, of which, moreover, the attempt to reach the island swimming was only a prelude." That is the statement on how Agrigento's attorney described the situation on board of the Open Arms. Consequently, he ordered the immediate landing, right after 12 people had risked their lives by jumping into the sea in an attempt to reach the coast by swimming.
The NGO Open Arms has been filed as a civil indictment alongside some of the rescued people during this difficult mission and other humanitarian organizations. This morning the judge, after evaluating the documentation submitted, has decided to accept the defense's request and adjourn the hearing until March 20, 2021 in order to request the necessary documents and translations.
January 9th has been a decisive day for the organization, a historical date. We hope that the open trial will serve to restore important truths: it will not be a matter of judging only the former minister of the Interior, but of marking a watershed in the direction of European policy on migration, relief omissions, announced shipwrecks, agreements with countries that systematically violate human rights.
For years, from Open Arms we have shown that we have always respected international conventions and that we have defended the life and fundamental rights of every human being. We hope that this process will consolidate this once and for all, clarifying the responsibilities of European governments and the importance of the work and commitment of humanitarian vessels that have operated in the Mediterranean in recent years.