Open Arms launches the campaign "Humans being Humans"
Open Arms is not a humanitarian organization.
We are organized human beings.
Under this message, Open Arms appeals to the most essential side of people in a call to action to build together a more humane and fair world.
Protecting the lives of people in vulnerable situations is our commitment. We do it with you and thanks to people like you because we are human beings, it is part of our nature.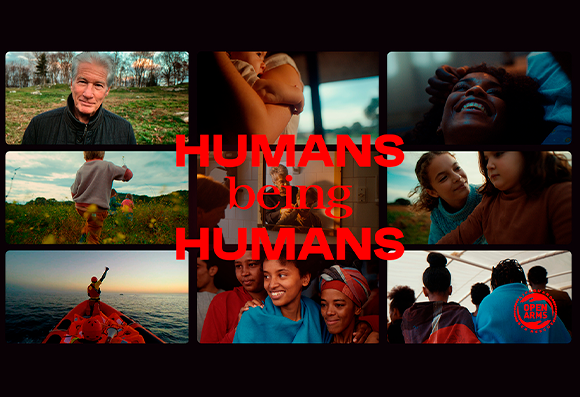 With Humans being humans we aim to connect with the innate essence of people. We appeal to empathy, affection, and the need to defend lives in danger.
Thanks to the humanity of people like you, we have been able to save lives and preserve the dignity of more than 66,000 people in the last seven years. We have achieved this through rescue missions at sea and interventions in nursing homes and vulnerable groups in times of health emergencies in pandemics. Also thanks to our #Origen project in Senegal, and the creation of humanitarian air corridors, in flights that prove that legal and safe ways for refugees are possible.
We need each other. They need you.
The first audiovisual piece of Humans being Humans, a campaign developed by a great team of professionals from the audiovisual sector, stars American actor and activist Richard Gere. It also features other personalities from the world of culture and sports such as Pep Guardiola, Joan Manuel Serrat, Marc Gasol, Rigoberta Bandini, and others to be added in the coming days. They show their most human side to demonstrate that all people, regardless of their origin, sex, religion, or skin color, have something precious in common: life, emotions, projects, and above all, human rights.
As Richard Gere himself says: "Let's take care of each other, please, let's take care of each other".
Because, when other people are in danger, that is when we most need to return to our essence: humans being humans. And more than ever, we need your support to keep going.
It's in our nature, it's in you. Let's keep doing it.
We need each other. They need you.
Help us to keep going.
DONATE