Charity T-shirt Launch: "Samanté! Andreu Buenafuente x Open Arms"
Andreu Buenafuente joins us on our mission with an exclusive charity T-shirt
On Thursday 13th of April, in the port of Badalona, Andreu Buenafuente and Oscar Camps, the founder and director of Open Arms, launched the new charity t-shirt "Samanté! Andreu Buenafuente x Open Arms", designed by the Catalonian broadcaster himself to support our humanitarian work and condemn the situation in the Mediterranean.
Andreu Buenafuente, who has been a strong supporter of our organisation since the beginning, once again climbed aboard Astral, our humanitarian sailing boat that has rescued more than 15,000 people since 2016, to speak out against the injustices that happen daily in the Mediterranean because in his words: "We always have to put our hearts into everything we do."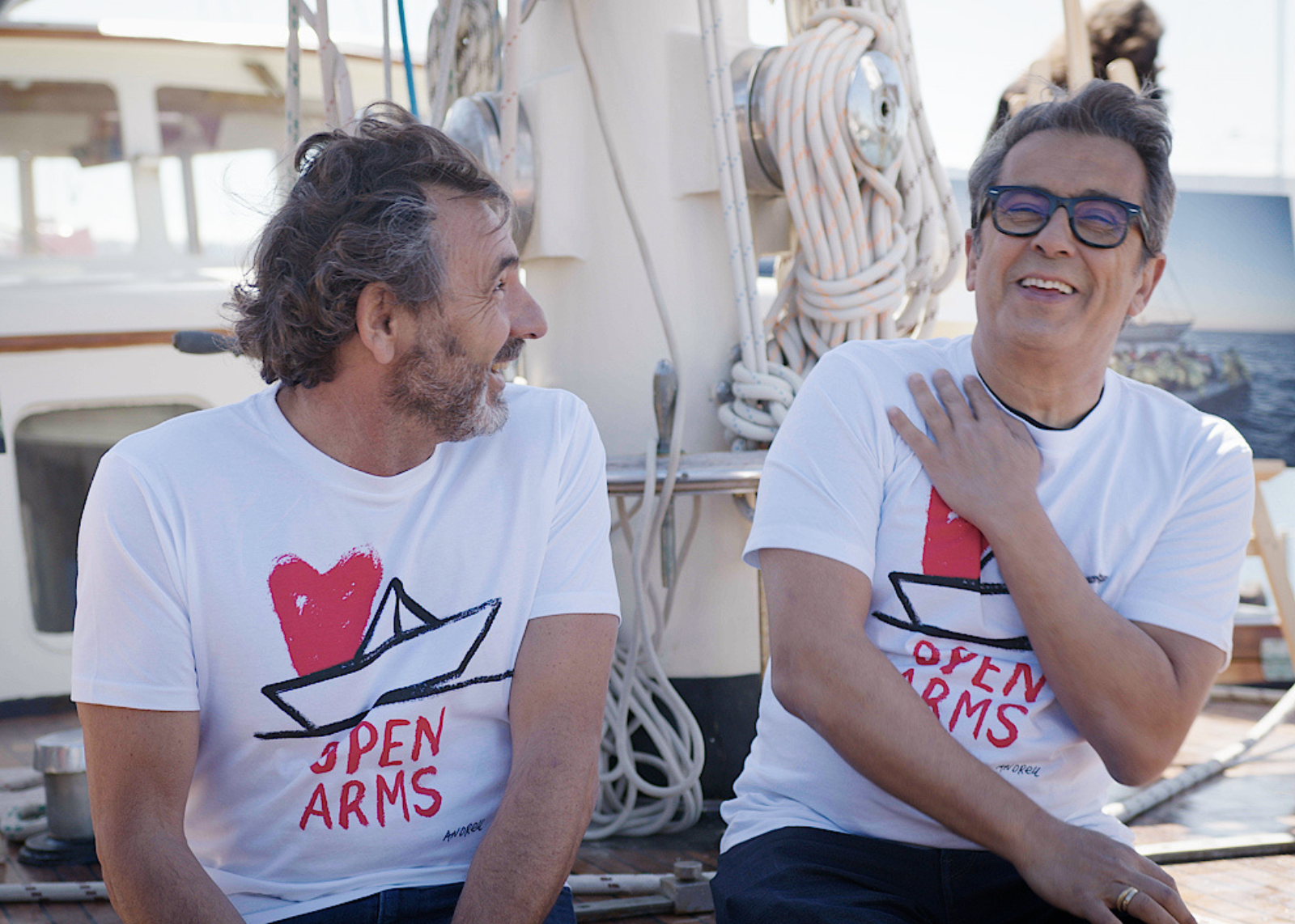 "I deeply admire the work that Open Arms do and I always have that in the back of my mind," the comedian said during the launch. "We have made the most of the enormous communicative power of t-shirts and the simple image of a heart (which is so heavy it's almost tipping the boat over!) to try and make sure that the organisation is at the centre of the conversation in a good way."
"When I see someone with an Open Arms t-shirt," Buenafuente concluded, "I always think: that's one of mine!"
The press launch was an opportunity to discuss the migratory state of emergency ordered by the Italian government just a few days prior. "The recent far-right governments in Italy have dismantled the system for asylum seekers," Oscar Camps said. "We know that these policies are going to have consequences, but we don't know their scope, or what regulations will be affected."
The t-shirt is already on sale on our online shop Openarms.es, on Samanteofficial.com and in-store and online in Natura shops. The money raised from the sales of this 100% cotton garment will all go towards the work Open Arms does on land and at sea. When people are in danger, humanity must prevail and we must protect the lives of those who are vulnerable, it's in our nature.
We need each other. We need you.
Help us to continue our work.
DONATE