Namaka' dedicates a special issue to migration, Human Rights and Empathy
The children's magazine has counted on a special collaboration with Open Arms
Namaka publishes a new magazine dealing about a controversial, urgent and necessary topic to be explained to children. Issue 35 is about migrants and a fairer world where no one has to risk their lives crossing the sea.
This issue was born from the experience of Open Arms, the NGO whose main mission is to protect at sea those who try to reach Europe fleeing war, persecution, poverty... This collaboration is important because Open Arms and Namaka want to make children aware of the inequalities and social injustices that surround them.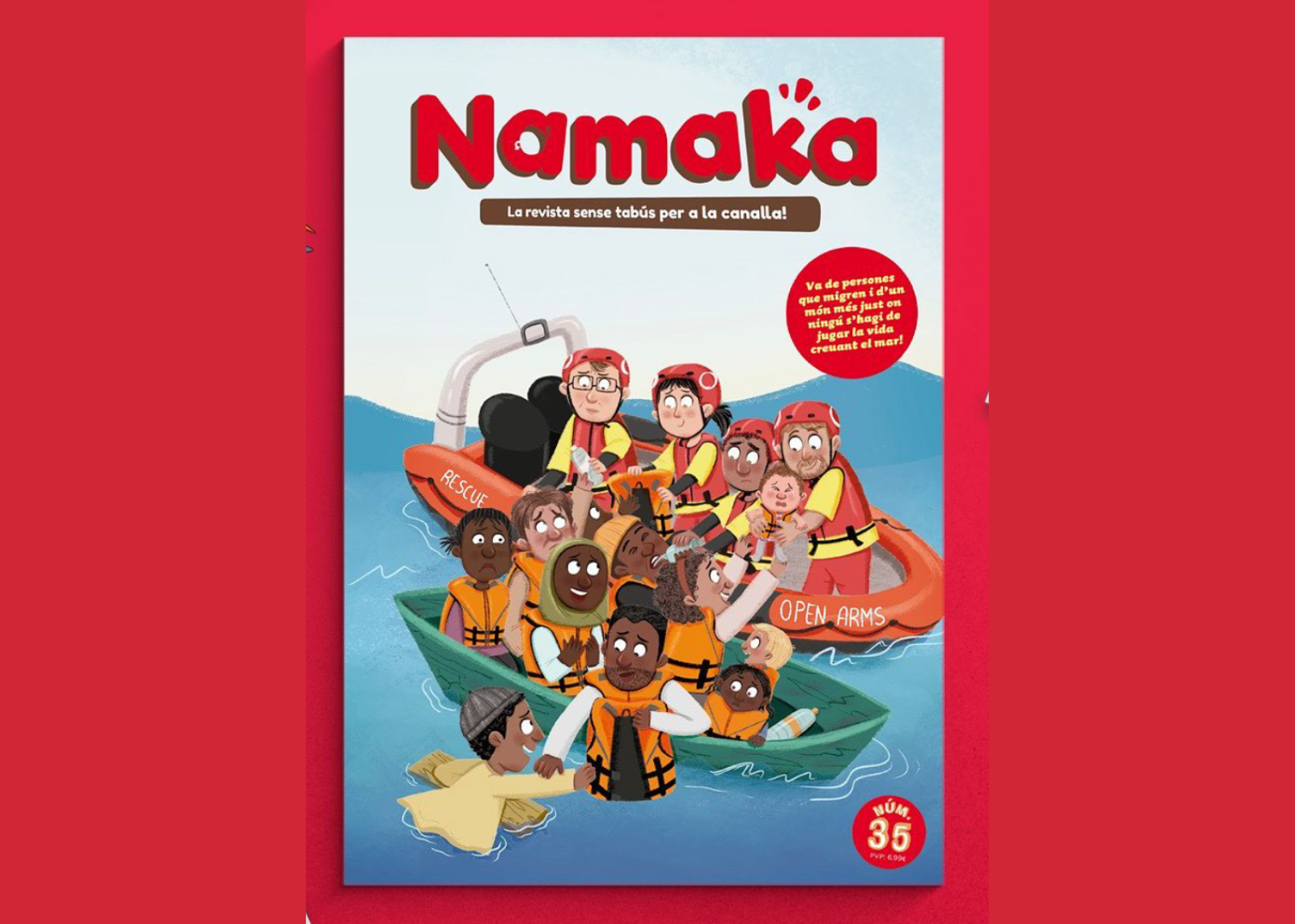 The magazine explains the reasons behind migrations, appeals to historical memory and encourages empathy. This Namaka also deals with the drama of all those people who throw themselves into the Mediterranean Sea and risk their LIFES. And it makes us think about how we welcome newcomers and invites us to put ourselves in the shoes of the migrants. The magazine talks about inequalities and how they condition the existence of so many people in the world. But above all, the magazine wants to be a hymn of hope and activism, celebrating the actions of all those who, with arms wide open, help and denounce injustice. Namaka number 35 raises questions that are sometimes difficult to answer, but that we as a society must ask ourselves.
Namaka has walked hand in hand with Open Arms and especially with its pedagogical coordinator, Ángeles Schjaer, who makes this reflection: "As long as we continue to build walls and protect borders instead of protecting people, we will continue to live in an unequal world. Let us build more bridges and less walls! With this project we want to create a fairer and kinder world for all people, no matter where they come from. With "Education for Freedom" we open our arms, but also our hearts and minds to be responsible and honest. We must recover our historical memory and remember that we are a country where, a few years ago, many people emigrated, fleeing a war, and we were lucky to be welcomed on the other side of the sea and to have the opportunity to start again.
"This magazine is a gift to all those families and schools that strive to provide children with resources that address serious issues such as these. At Namaka, we believe that awareness and information from an early age are essential for our children to develop the ability to make decisions and take action. That is why we always offer proposals that encourage entrepreneurship and activism, with the aim of making them reflect and seek solutions to current challenges," adds Sara Molina, editor of the publication.
On February 15, Sara Molina, editor of Namaka magazine, and Ángeles Schjaer, educational coordinator of Open Arms, presented this special issue in a live video on Namaka's IG channel.
In addition, Ángeles Schjaer spoke with Sara Molina in the Fora tabús! podcast for teachers, in which the editor of Namaka magazine talks about controversial issues that should be addressed in the classroom. In this episode, Schjaer presented the "Education for Freedom" project that Open Arms carries out in schools and institutes, focusing on different age groups, to raise awareness about migration, empathy and human rights.