117 people rescued and hundreds of others helped in Open Arms' Mission 100.
The Open Arms ship is already back in the Central Mediterranean for Mission 101
On June 23rd, after two intense weeks of rescue operations in the Central Mediterranean, Mission 100 aboard the Open Arms came to an end.
Just a few days after leaving the port of Barcelona, our tugboat Open Arms carried out its first assistance operation in waters south of the Italian island of Lampedusa for 106 people who were crammed on a boat coming from Tunisia. All people on board, including several women, were given a life jacket and then waited for the arrival of the Italian Guarda di Finanza to be transferred to land.
On June 17th, after several hours of searching, the Open Arms crew rescued 117 people - 25 women, 31 minors, and a 3-year-old child among them - who were traveling on a precarious and unstable wooden boat. They were fleeing from Sudan, Eritrea, and Libya, where they had sailed crammed between the outer deck and a lower one on a boat that would have become a death trap if they had not been rescued.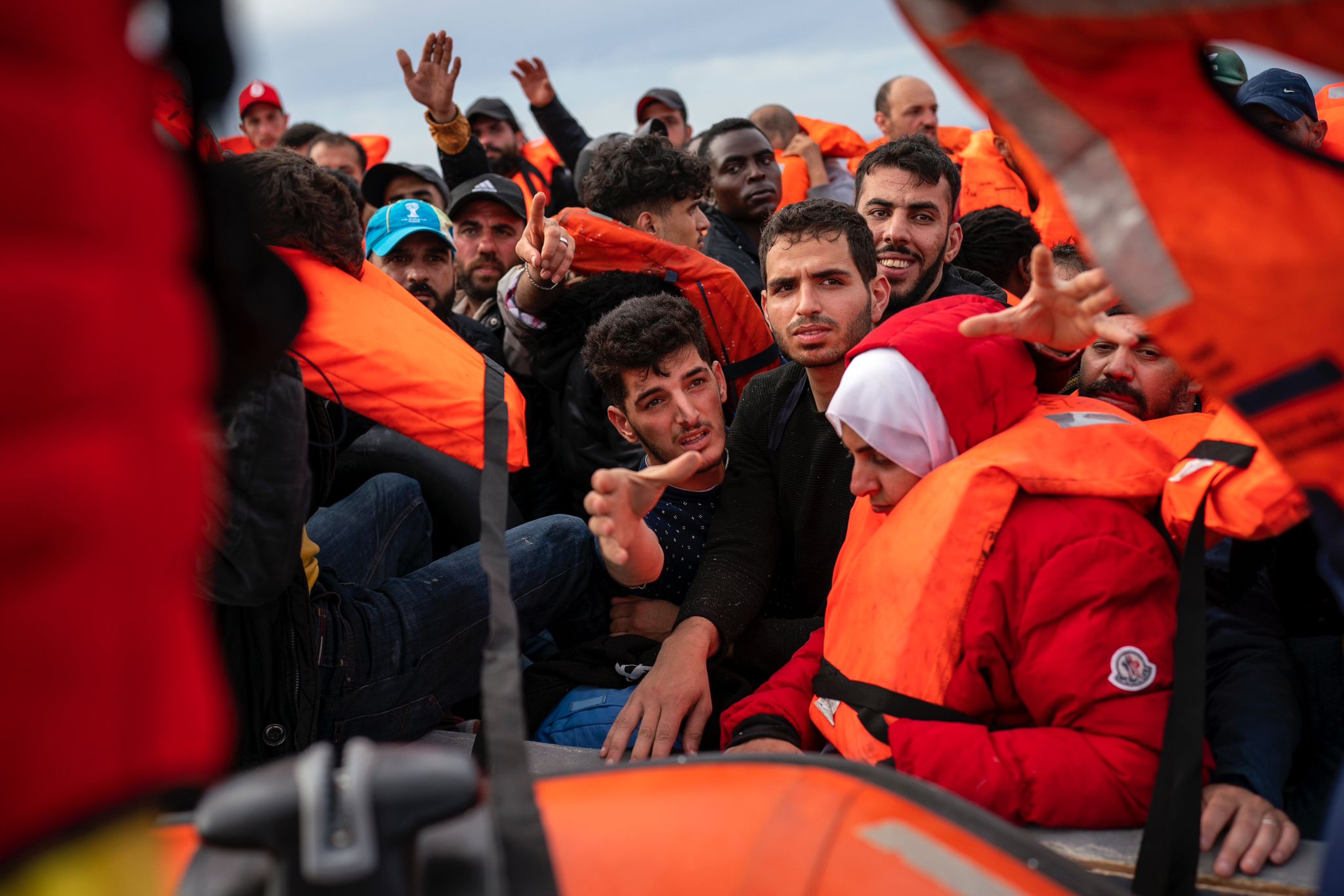 After bringing them aboard, we activated medical protocols for those who needed attention and requested a Safe Port from Italian authorities for them to disembark. Following their strategy of harassment and hostility towards civil society organizations that comply with international maritime law and protection of life at sea, Italy's far-right government led by Giorgia Meloni decided to assign us Livorno as the disembarkation port, which is located 650 nautical miles from the rescue area - three times farther than the nearest Safe Port in Sicily, which should have been chosen according to international agreements. This is yet another example of cynicism and contempt for the suffering of the most vulnerable by Italian authorities.
During our journey to the port of Livorno, Open Arms located four other precarious and overloaded boats and provided assistance to the 149 people on board until the Italian coast guard arrived. Finally, after 5 days of navigation, the 117 people rescued by Open Arms were able to safely disembark in Livorno.
However, this year alone, more than 1,807 innocent lives have been lost to the depths of this immense mass grave. Summer has only just begun, and we face one of the worst seasons we could imagine. War and persecution in Libya and Tunisia combined with good weather will make many more people decide to cross, unable to do so through legal and safe channels.
That's why, after a crew change and resupply, Open Arms will set sail again to the Central Mediterranean for Mission 101. Because protecting lives in danger is our mission, our commitment, and our obligation. Today, more than ever, you are very important in our team and we need you with us from mission to mission. Without your support, it will not be possible.
Author of the photos:
Joan Mateu Parra