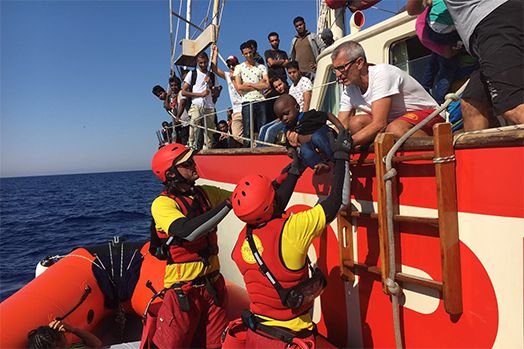 WE ARE OPEN ARMS
Open Arms is a non-governmental, non-profit organization whose main mission is to protect, by having a presence at sea, those people who try to reach Europe fleeing from war, persecution or poverty. Born from a rescue and first aid at sea company with extensive experience in the Spanish coasts.
We specialize in surveillance and rescue missions of boats carrying people who need help in the Aegean and Central Mediterranean sea, as well as raising awareness of all the injustices that are happening which have been untold.
It all started with some pictures of children that drowned on a beach. We thought: if we dedicate ourselves to this and we do it on our beaches, why are they dying there and why is nobody helping them?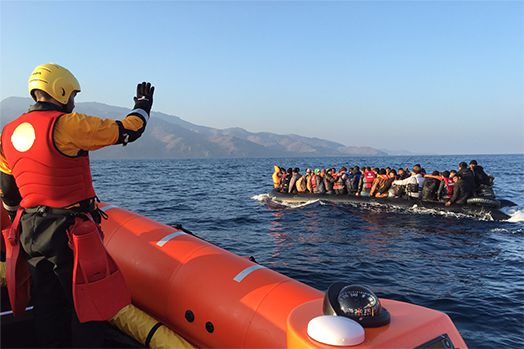 WITH YOUR HELP WE CONTINUE TO SAVE LIVES
With the help of lots of people who collaborate with donations, we were able to increase our resources and save more lives every day.
These donations also helped us to be able to rotate our teams. Our volunteers rotate every 15 days due to the physical and emotional impact of the situation.
After the agreement between the UE and Turkey, we are also in the Mediterranean Sea with a rescue and surveillance boat. We do not want to lose one more life to the sea, neither do we want to allow the sea to silence the injustices that happen there.
FIELD TEAM
We also work with an essential team on land: a group of psychologists specialized in crisis situations, emergencies and victims of terrorism who support the lifeguards at all stages of their work.
Upon returning, they offer necessary psychological support in order to help manage the situations that the volunteers have survived, prevent the manifestation of Post-Traumatic Stress Disorder (PTSD) and help them return to their everyday reality, while ensuring their emotional stability for future interventions.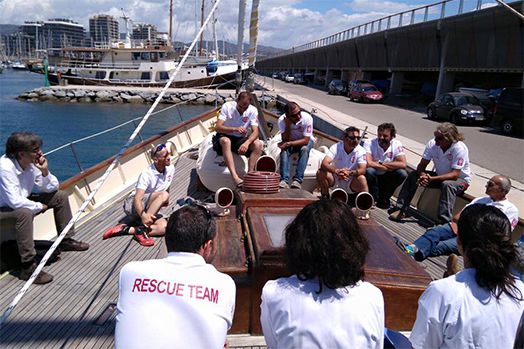 ACCREDITATIONS AND CERTIFICATIONS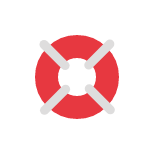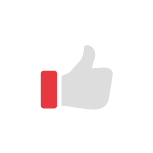 Open Arms is an entity associated to the Department of Public Information of the United Nations.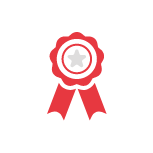 The work and initiative of Oscar Camps and his team of volunteers, has been recognized by awards detailed below:
European Award of the year 2018 to Oscar Camps
Given by the magazine Reader's Digest
"Valores" Award 2019
Given by "La Razón"
National Human Rights Award 2018
Given by the Spanish Human Rights Association
"Portaveu" Award to Oscar Camps
Given by the Journalists Association of Catalonia (Col·legi de Periodistes de Catalunya)
Baeza Diversa Award 2018
Given by Baeza's City Council
Sájarov Award 2018 Finalists
Given by the European Parliament
Civic Merit Medal
Given by Barcelona's City Council
"Trabajo y Sociedad" Award
Given by the Anastasio de Gracia Foundation (AGFITEL)
Spanish Federation The Human Right 5th award
Given by the Spanish Federation of Le Droit Humain
"Memorial per la Pau Josep Vidal Llecha" Award 2016
Given by the Josep Vidal Llecha Association
Gold Medal 2018
Given by the Official College of Social Work of Catalonia ("Col·legi Oficial de Treball Social de Catalunya")
Benet Vigo Award
Given by the Roca Galès Foundation
"Optimistas comprometidos" Award (Category: Sustainable Thinking)
Given by the magazine "Anoche tuve un sueño"
Creu de Sant Jordi Prize 2018
Given by the Government of Catalonia
"Estrella de Europa" Award 2018
Given by Zaragoza's City Council
Climent Guitart Solidarity Award 2017
Awarded by the Guitart Hotels company
Plácido Fernández Viagas Prize 2017
Awarded by the Law and Democracy Association
UNICEF Spanish Committee Transforma Award
Awarded by the Spanish Committee of Unicef

ALBA/Puffin Award for Human Rights Activism
Awarded by the Puffin Foundation and the Abraham Lincoln Brigade Archives (ALBA)
Il·lustre Col·legi de l'Advocacia de Barcelona Medal
Given by the Illustrious Bar Association of Barcelona ("Il·lustre Col·legi de l'Advocacia de Barcelona" (ICAB))
Olof Palme Medal 2017
Awarded by the International Olof Palme Foundation
"Valors" Solidarity Award 2016
Awarded by the Consell de l'Advocacia Catalana (CICAC)
European Citizen's Prize 2016
Given by members of the European Parliament
H.E.R.O Awards
Given by the International Maritime Rescue Federation
Catalan Prize 2015
Awarded by "El Periódico" readers
Pie Derecho Award – 9th Edition
Given by "Cadena 100" to the most outstanding citizen solidarity initiatives
Trencant Invisibilitats Award 2015 – 13th Edition
Given by Badalona's City Council
Honours to the humanitarian work done in the Lesvos island
Given by Lloret de Mar's City Council (February 2016)
Pere Casaldàliga a la Solidaritat Award 2016 (Navarcles)
Given by the International Festival of Solidary Cinema ("Festival Internacional de Cinema Solidari")
PROCURA Solidarity Prize
Given by the Spanish College of Lawyers
Canary Islands Gold Medal 2016
Given by the Governing Council of the Canary Islands ("Consejo de Gobierno de Canarias")
ADECOSE Prize
Given by the Spanish Association of Insurance Brokers
Jesús Vicente Chamorro Prize for the Defence of Human Rights
Awarded by the Progressive Union of Prosecutors
Impacte Award 2016
Given by the College of Advertising and Public Relations of Catalonia ("Col.legi de Publicitaris i Relacions Publiques de Catalunya")
International Prize for the Rights of Minors
Given by the online magazine, Dirittominorile.it
Sol D'Or Award
Given by the International Environmental Movie Festival
Roig Toqués Award
Given by the Vilanova i la Geltrú's City Council
IWater Award
Given by the 1st edition of the IWater show

FUNDING AND EXPENSES
From September 1st 2017 to September 1st 2018, contributions reached to 3.5 million euros. Open Arms has total economic independence thanks to all the small contributions from private individuals.
Of the total funding we received, 90% came from the private donations of more than 51,000 people who helped us with small contributions, ensuring the organization's economic independence.
The remaining 10% comes from official organizations and local administrations.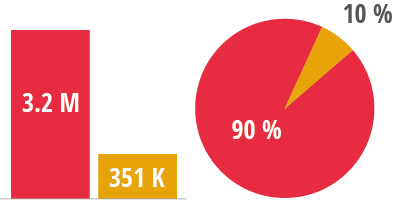 Private funds Public funds
From September 1st 2017 to September 1st 2018, the direct costs of our missions came to 3.2 million euros.
Of the total costs, 95,5% went towards direct action for the Mediterranean mission. In terms of structure, 4% of expenses were spent, including communication costs. The remaining 0,5% went to the Origin mission.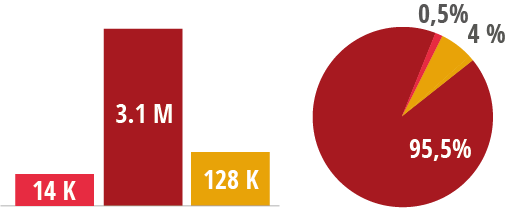 Origin mission Mediterranean mission Administration and fund raising costs