New flagship
THE NEED FOR A NEW SHIP
Since a long time ago the harshness of searching and rescue missions in the central Mediterranean shows the need of adding to the fleet a new and bigger ship.
The tugboat, in more than 50 years of existence, has navigated the equivalent of more than 2 world' turns doing in humanitarian missions in the central Mediterranean since we gave it a second life with its incorporation to the humanitarian fleet into 2017, and the most important thing, the ship has rescued more than 7,300 people at sea.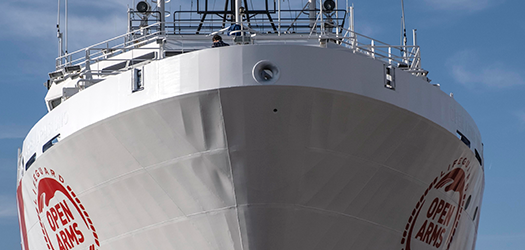 However, the need of having a bigger boat capable of facing sea missions with greater security has been stated due to the difficulties we face there. So far this year, the number of people that had lost their lives in the Mediterranean trying to reach Europe was raised to more than 1,555 lives, according to the International Organization for Migration (IOM).
In the face of this need, Enrique Piñeyro, an Argentine philanthropist who has collaborated with Open Arms through his NGO named Solidaire, with humanitarian flights to India and Mozambique, has joined our mission through the grant of the new ship 'Open Arms Uno'.
'OPEN ARMS UNO' FEATURES
The 'Open Arms Uno' was constructed in 2000 in Norway. The new ship is 66 meters long (length), 15 meters wide (width), is 4 times higher tonnage than the old 'Open Arms' tugboat and has a 353 square meter deck where a helicopter can land in case of emergency and evacuation.
It is a ship designed to perform mass rescue tasks, takes on board 4 semi-rigid boats, also known as RHIB, and it allows us to embrace 300 people, a number that can expand in case of emergency. It also has 31 places for the crew and a hospital with 26 beds.
We need your help
The 'Open Arms Uno', a ship prepared for massive rescue at the sea, will help us to rescue more people with safety, to protect the most vulnerable lives and fulfill the duty of anyone who sees lives in danger at the sea, as stipulated by the Law of the Sea and international agreements.
But the operative costs of 'Open Arms Uno' will be higher. That's why now, more than ever, we need your encouragement and help to continue fulfilling the commitment of not leaving any life adrift.
Can you help us?