We present in Madrid the children's collection "Cuentos a la Deriva" with Rozalén
Next Tuesday, November 29th, we will present in Madrid, alongside the publishing house La Galera, the new solidarity collection of children's books based on the real stories of the people we have rescued in the Mediterranean. We will have the participation of Rozalén, a very committed artist who will become a storyteller for a day, and the photojournalist Juan Medina, who specialised in migrations, and has witnessed many of these rescues. The event will be at the SGAE building in Madrid (C/Fernando VI, 4) at 7 p.m. You are all invited!
Cuentos a la Deriva is a solidarity project by La Galera and Open Arms to help raise children's awareness of the reality that surrounds us through protagonists of the animal kingdom, also migrants who are currently under threat. This way, values of solidarity, empathy and freedom are sweetly instilled. The first two titles illustrated in full colour by Chantal Vizcaíno are La Canción de Josepha and Sira y sus hermanas.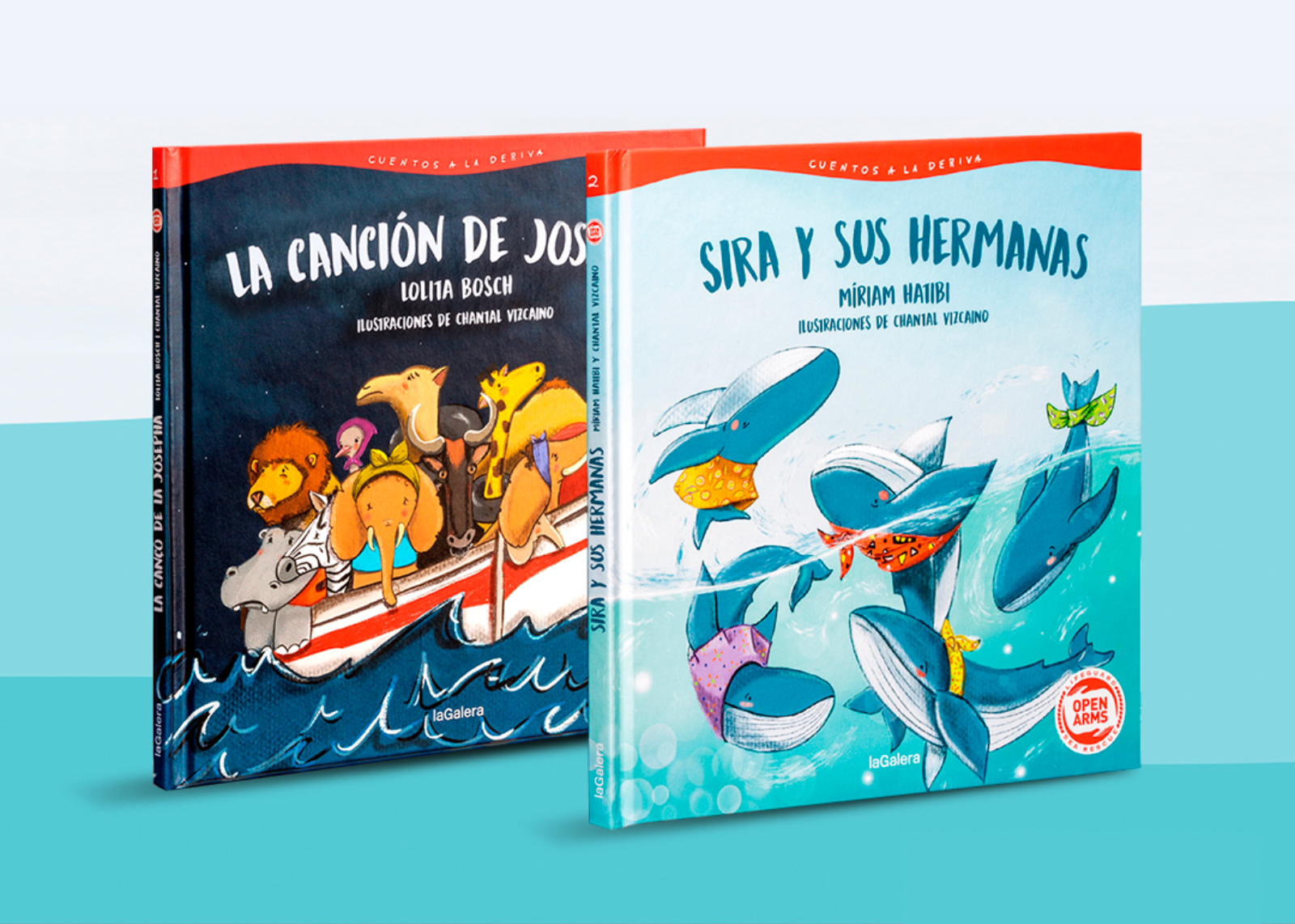 La Canción de Josepha, by Lolita Bosch, tells the story of Josepha, an elephant who flees Cameroon, an African country full of animals living in freedom. She crosses several countries to reach Libya, where she throws herself into the sea in search of a safe place to live in Europe. That is a metaphor for Josepha's real life, the only survivor of a boat we rescued in 2018 in international waters in the Mediterranean.
Sira y sus hermanas, by Miriam Hatibi, tells the story of five sisters, represented through the image of five whales from the Ivory Coast, who were forced to flee their family to avoid female circumcision (FGM). After a long journey across the African continent, they are rescued on the high seas with the ship Golfo Azzurro.
This collection is part of the Open Arms programme "Education for Freedom", which aims to foster a critical spirit and empathy in children; and has already reached more than 125,000 students in schools from around the world.
We will be joined by Ángeles Schjaer, a pedagogical coordinator of Open Arms; Laura Lanuza, the head of communication and projects at Open Arms; Pema Maymó, the editorial director of La Galera; Rozalén, singer and activist, and the photojournalist specialised in migrations, Juan Medina.
Every life counts, and every tale is life. We are waiting for you!
PS: Attention, seating is limited, so please confirm your attendance* at confirmaciones@grupenciclopedia.com !
*By confirming your attendance you consent to the publication or dissemination of images derived from the event.