Open Arms assists nearly a thousand people in the midst of a humanitarian emergency in the central Mediterranean
Open Arms carries out dozens of rescue operations in the last week, in an increasingly critical situation in the central Mediterranean
Mission 102 aboard the Open Arms set sail on July 27th, after disembarking 73 rescued individuals. Our tugboat was joined by the sailboat Astral, which departed last Monday on a mission of surveillance, observation, and denunciation.
Last Thursday, the crew of the Open Arms located and rescued a very precarious wooden vessel with 24 people on board, including 6 women, 9 minors, and a 3-year-old child. Additionally, we witnessed 2 cases of "hot returns," carried out by the so-called Libyan "coastguards," who had previously threatened and expelled us from the area. The Italian authorities then assigned Civitavecchia, Italy, over 3 days of navigation away, as the disembarkation port.
During our navigation, we encountered a critical situation: hundreds of people on board numerous boats in imminent danger of sinking, pleading for assistance.We responded to more than 15 distress calls from vessels in difficulty, paradoxically under the coordination of the Italian Coast Guard, rescuing a total of 265 people onto our deck. Open Arms' Mission 102 concludes with a total of 777 assisted individuals, involving 9 rescue operations and 12 assists to the Italian Coast Guard.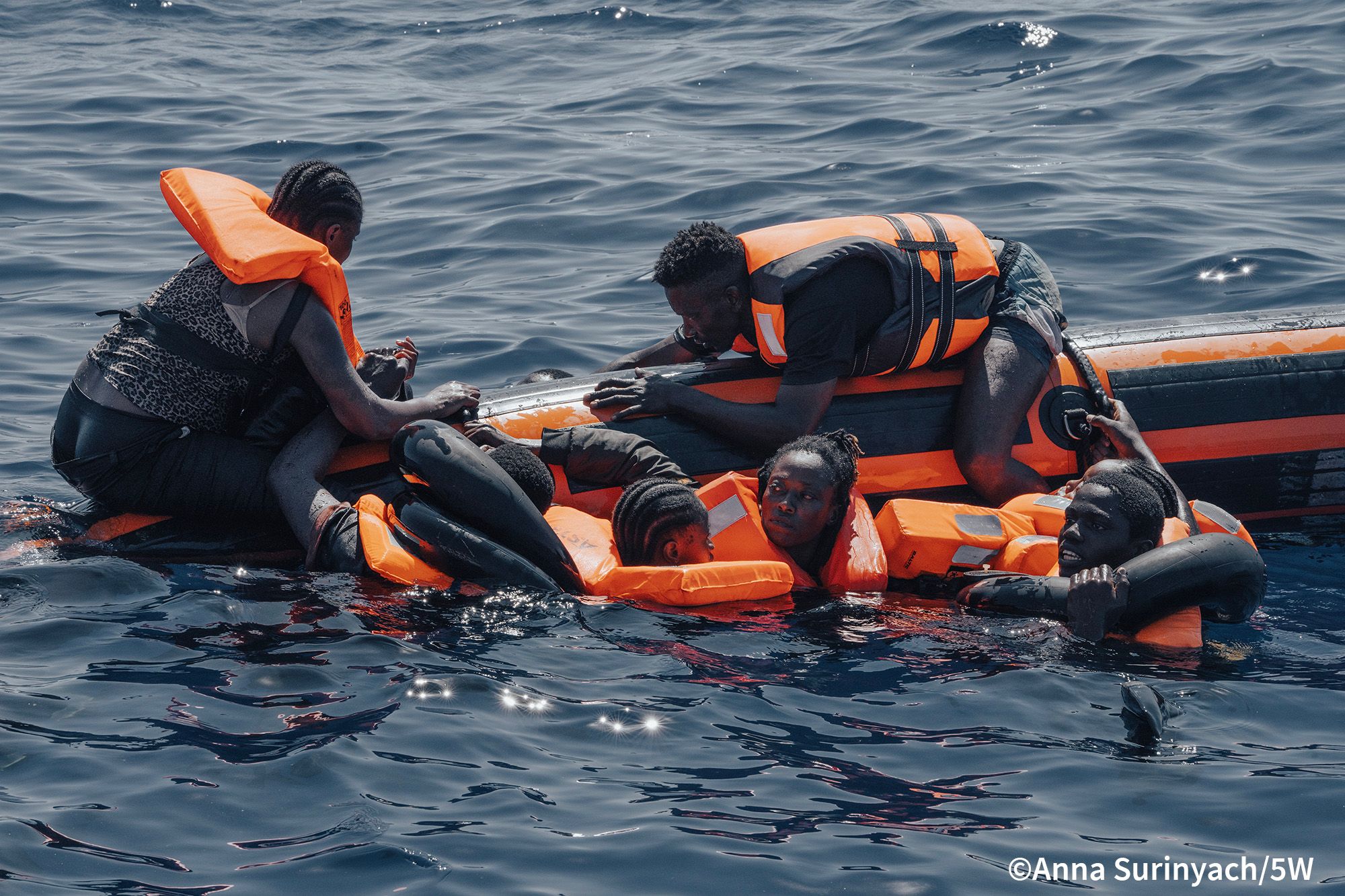 After disembarking 70 people in the port of Lampedusa on Friday night, the tugboat Open Arms, with 195 people on board, set course for Brindisi, a new disembarkation port assigned by the Italian authorities due to adverse weather conditions, where we disembarked on Sunday.
Meanwhile, on the night from Wednesday to Thursday, our sailboat Astral rescued 2 small metal boats, with a total of 62 people on board, including several medical cases and a woman in an advanced state of pregnancy and in labor, whom we eventually disembarked in Lampedusa in the early hours.
Astral set sail again on Friday afternoon and during the night, after 3 complex rescue operations of very precarious drifting iron vessels, disembarked another 136 people in Lampedusa, including 35 women—one of them pregnant—and 4 children.
In total, the teams of Astral and Open Arms assisted and rescued 985 people in the central Mediterranean over the past two weeks.
In recent days, we have also come across small empty dinghies without being able to ascertain whether the people on board had been rescued or not. This is another indication that the situation in the central Mediterranean is becoming increasingly critical.
It is therefore essential for the Italian authorities to once again assign closer disembarkation ports, so that it is possible to reach the SAR zone as quickly as possible to protect lives and prevent even more innocent victims.
With very limited resources but a great deal of determination, we have rescued over 68,000 people so far, yet the sea continues to claim innocent lives.
Photos: Matias Chiofalo / Anna Surinyach